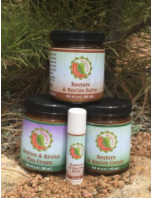 Restore & Revive Remedy
This is a unique blend of synergistic organic herbs wonderful for a vast variety of skin ailments.
Salve: our beneficial blend of organic herbs that assist the body's innate ability to reduce symptoms of eczema psoriasis, callouses, rashes, dry cracked skin and rough patches. Very soothing for cracked lips and cold sores.
Cream: Our blend of Aloe, Salts and our unique, synergistic blend of herbs to create a soothing cream that protects and alleviates the skin from the itchiness, pain and irritation of skin ailments such as psoriasis, eczema and rashes.
Plus Cream: Our soothing cream blended with Therapeutic Grade Essential Oils beneficial for burns and cuts, aging skin, break outs from acne to rashes and irritated skin eruptions.
Oil: Our synergistic blend of herbs and Therapeutic Grade Essential Oils great for fungal infections, warts, acne, scalp and irritated skin eruptions.